Learning Process
The learning journey at the GLC4HSR follows a multi-level, multi-regional structure. The unique bottom-up approach of the GLC4HSR facilitates learnings to be tested through pilots at the community level, allowing for practical application of theoretical frameworks. The thematic learning journey enables the generation of key outputs that are applied to achieve the intended outcomes.
The core learning approach of the GLC4HSR relies on knowledge pooling, processing, presenting, and practicing, to improve performance on an ongoing basis. The same approach underlies learning organizations, systems, and cultures.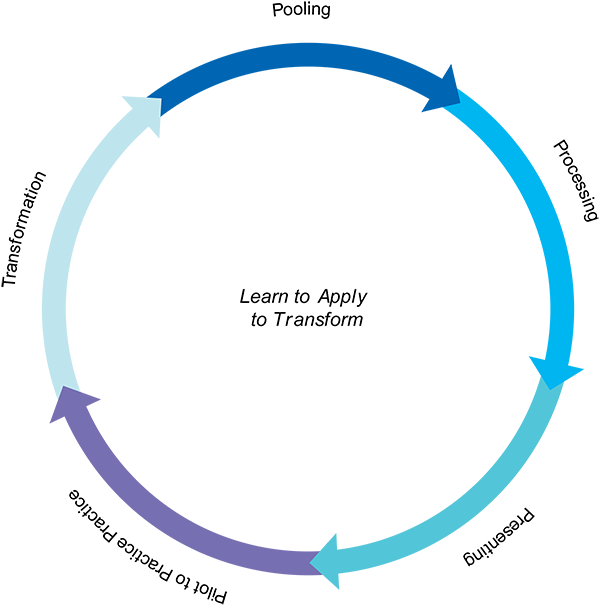 Pooling of knowledge
Knowledge pooling includes primary and secondary research, cross-country learning exchanges, and focus group discussions.
Processing
Participants process the pooled knowledge to co-create products and tools for health systems strengthening through multiple formats such as working groups, virtual collaborations, study groups, research interviews.
Presenting
The knowledge products are presented among participants in a form that is understood by all. This is done through the Members' portal, a repository of knowledge products and tools for learning and practical application.
Pilot to Practice
The framework/theoretical concepts are tested on ground in a specific geography in the form of flexible pilots to assess its scalability.
Practice to Transformation
Successful pilots are taken to scale with the buy-in of policymakers, to achieve impact.